Full Time
5 Half Days – From 8 am to 12 pm
3 Full Days – Monday, Wednesday, and Friday
2 Full Days – Tuesday and Thursday
Part-time options are not available for infants and toddlers under 24 months of age. Priority is given to parents needing full time enrollment. Part-time enrollment may be limited or restricted at any time based on demand for full-time. If you are required to move to full time to retain your child's space, you will receive a two week minimum notice.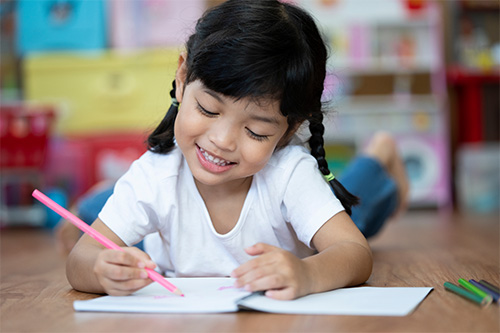 Learning Beyond is a highly innovative, 100% digital curriculum that provides our teachers with a robust library of activities and lessons in a developmental progression. Most importantly, Learning Beyond is consistent with our core value of purposeful play as we fundamentally believe play is the vehicle for learning for young children. Through play, children practice and refine their skills, have fun (a necessary component in learning), and try new things. As a result, children learn more quickly through repeated and scaffolded activities that are built upon past experiences. By contrast, rote instructional teaching methods can frustrate young children and are not developmentally appropriate. Children prefer real experiences as provided by Learning Beyond.
Learning Beyond's developmentally appropriate activities are aligned with Alabama's early learning standards. The standards are integrated into each activity with an intentional focus on physical development, social-emotional skills, early mathematics, language, and literacy and STEAM (Science, Technology, Engineering, Arts and Mathematics).
Our teachers are facilitators in your child's individualized learning journey. Their intentional and targeted activities through Learning Beyond are planned to build upon your child's existing competencies. Developmental skills are broken down into smaller steps to challenge them, but also build confidence through practice. Through trial and error, questioning, and exploration, your child will develop the skills necessary to become a successful, life-long learner.
Children are born ready to learn. At Aim Academy, we recognize the relationships they form with their teachers and caregivers are critical to their development. Our teachers are highly focused on developing secure, trusting, and predictable relationships with your child. We understand these relationships form the foundation for your child's learning and development.
In Early School, your child's day is designed to meet their specific needs. Our teachers facilitate personal care routines throughout the day including meals, naps, and diapering or potty training. As your child progresses to the older classrooms, these routines become more structured, but remain consistent and predictable. Our classrooms and outdoor play areas are highly specialized and specifically designed to accommodate the needs of infants, toddlers, and two-year-olds.
As children in Early School are developing rapidly, our teacher-led activities are specifically tailored to each child's stage of development and include weekly activities in the following four domains:
STEAM
Language and Literacy
Physical Development
Music and Movement
During their first 12 to 18 months, infants learn and grow quickly. Quality relationships are critical during this time. Our teachers use Learning Beyond to play and engage with your infant through warm, nurturing, and attentive experiences that support exploration and provide choices. By focusing on both nonverbal and verbal cues, our teachers will ensure your child is comfortable and their needs are met. Throughout the day, our teachers narrate their own actions and the actions of other children in their class. During transitions, our teachers actively communicate their intentions in positive and warm tones. Through these experiences, your child is constantly exposed to descriptive and complex language to support their early language development.
Toddlers are a flurry of activity and movement as they continue to develop language skills and take their initial steps of independence. Everything is new and exciting!. Learning Beyond provides essential learning opportunities focused on building practical skills, language, and social and emotional development through relationship-focused teaching.  Learning Beyond's individualized activities allow our teachers to use the brain building Serve and Return model of responsive and attentive communication. These individualized interactions help build a strong foundation for your child's learning and development. 
Twos show more and more independence when they have opportunities to do things for themselves. They are learning from their behaviors and choices, trying new things, getting messy, and learning how to clean up. The "I" is strong with twos as they develop friendships, strengthen relationships with their teachers, and learn to talk in more sophisticated ways. Learning Beyond's scaffolded activities give children choices and options to empower them and build their knowledge.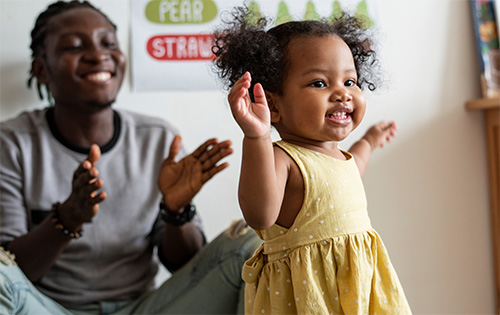 As your child progresses from Early School to Preschool, our teacher-led activities become more frequent to provide your child with even greater opportunities for growth and development.  Our daily lesson plans include a minimum of five teacher-led activities in each of the following areas:
STEAM

Language and Literacy

Physical Development

Interactive Reading

Cognitive


As part of their overall planning, our teachers utilize Learning Beyond's Progress Monitoring Tool to assess and evaluate each child's progress on specific developmental milestones and objectives.  Through their observations and interactions, our teachers use the assessment outcomes to further tailor or scaffold the learning for each child in their class.  Assessment result will be shared with parents.
Three-year-olds are able to solve more and more problems, figure out unique ways to do things, and always want to know WHY! Through Learning Beyond, our teachers guide and extend your child's learning through purposeful play experiences, asking questions, and encouraging conversations among their peers. The activities are tailored to allow your three-year-old time to work through challenges and ask important questions that help them learn and grow.  Most importantly, they will be having fun! Students may not even realize they are learning critical early reading, math, and social-emotional skills.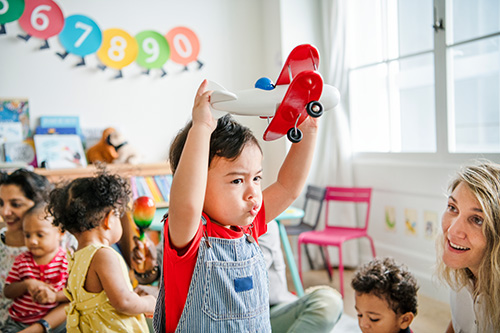 Your four-year-old will continue building their skills and confidence while adding layers of knowledge through practice and novel opportunities. Concepts previously introduced become more easily understood through continued hands-on learning and repeated opportunities to practice. Through their active learning and the supportive bond of our teachers, Aim Academy Pre-K students build confidence, thrive as independent learners, and enter kindergarten well prepared for success.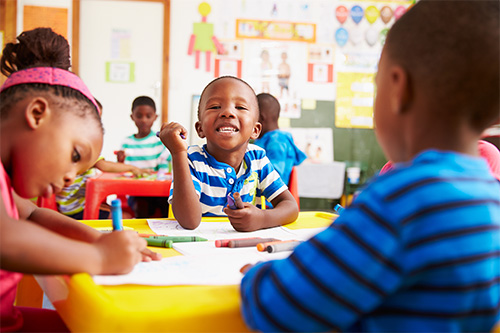 For children in kindergarten through the fifth grade, Aim Academy offers an exciting and engaging before and after-school program. At no additional costs, we provide transportation for your child to and/or from the local elementary schools. Full day services are also available during the school year on teacher work days, breaks, and certain holidays. For summer, we offer a fun filled full-day summer camp with weekly field trips to area attractions.
For afterschool, we offer your child the opportunity to relax, make friends, and have a little fun. We also provide homework help so they can have more free time at home and establish good habits. Our school-aged classroom is specifically tailored to their age appropriate interests. They can explore their talents in dramatic arts, music, science, creative expression, reading, and a variety of games.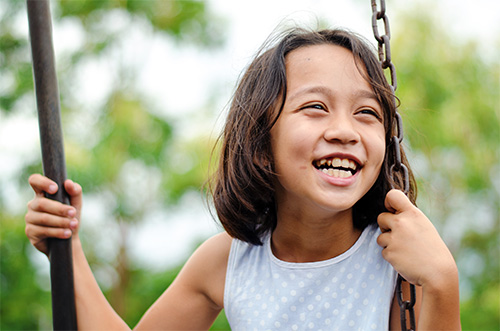 Please click the button for more information regarding our policies and procedures
Please click the button for more information regarding our rates.